Give Me 30 Minutes, And I Guarantee I'll Show You How to Completely Avoid the Chronic Frustrations That Come from Working With Expensive, Unreliable Web and Mobile App Developers Including Sloppy Work, Poor Communication & More!
Are you fed up with web and mobile app developers who don't even try to understand your business?

Are you tired of web and mobile app development firms that can't – or won't – help with marketing? Have you had enough of developers who keep charging you hours, yet don't deliver any work?

How about constantly missed deadlines and then when you finally receive some work, it is shoddy and requires even more time to fix it?

It's very common for businesses to be unhappy with the quality of service and communication they're getting from their web and mobile app developers, but they tolerate it. Why:
You don't know who else to call, who you can trust.
You're afraid you'll make things even worse by trying to change!
You're simply just too darn busy to take the time to find someone else.
But now you have a choice. If you qualify I will give you a free 30-minute consultation with me. You'll discover what it REALLY takes to complete your web and mobile projects on time, on budget and how the fastest and most efficient way to optimize your web efforts, for maximum sales in minimum time while saving you a great deal of time, aggravation and money. Briefly, here's what I have in mind…

First, you'll receive an in depth 36-Point assessment of your current technology and marketing landscape to quickly uncover the fastest route to your goals.

By the end of this 30 to 60 minute complimentary consultation (if you qualify) you'll know exactly:
How you can increase quickly optimize your site or sales to increase conversions?
Are you driving customers away with poor navigation, aesthetics and more?
Can your behind-the-scenes, backend applications be improved to increase security, better store data and enable more timely updates of content?
How you could get better results from your website while spending less money?
You'll get a clear picture on the state, health and performance of your technology and marketing, and you'll receive an in-depth customized optimization plan that will show you how to eliminate every single nagging problem, produce better results and lower costs wherever possible.
At The End Of This Assessment,
One Of Three Things Will Happen:
You love the plan and decide to implement it on your own. If this is the case, we'll wish you the best of luck and ask that you keep in touch with us to let us know how you're doing.

You love the plan and ask to become our client so we can personally help you implement it ASAP. If that's the case, we'll knock it out of the park ... and that's a promise.

Or finally…

In the unlikely and unprecedented event that you feel like you wasted your time, and that we don't find a way to dramatically improve your situation, we will send you a check for $100 immediately. No questions asked. Your time is your most valuable asset, and I respect that. To date, we've NEVER had anyone say that we've wasted their time, so I feel completely comfortable making this guarantee to you.

Think about this…

The "worst" that can happen is you get $100 for "wasting" an hour having an independent third party validate and review your technology and marketing efforts.

The best that can happen is we work together to finally take all web and mobile app development complaints off your plate.
So Why Would We Offer This For Free?
For one simple reason:

It's the fastest and easiest way for us to demonstrate the value we can deliver without any risk to you. Frankly, it's how we get the happy clients you've seen all over our web site and have probably heard about before. (See below.)

After all, if you like what you see and we show you how to solve a number of web-development-related problems in your company, why wouldn't you want to work with us?

Keep in mind this is a zero pressure opportunity with zero obligation or expectation from us. I don't like pushy sales people any more than you—and we stand on the belief that providing extreme value in advance is the best way to showcase our services and win new business. In fact, here's my "VALUE IN ADVANCE PROMISE" to you…
You'll Find This Consultation To Be
Incredibly Valuable Or We'll Send You A Check For $100
To Compensate You For Your Time
You'll probably never see an offer like this from any other web and mobile app development company in the world. But I'm SO confident that we can deliver extreme value that I have no concerns over putting this type of guarantee on our time together.

But I can only work with a limited number of people and you do need to meet a our initial strict criteria:

1. Your business must generate at least $500,000 in sales annually

2. You must have a long-term need for a web and/or mobile app developer
If You Meet The Criteria Above,
Here's How We Get Started:
Step 1: Go to the website below to complete our questionnaire. Don't worry, it's simple and unobtrusive; if you don't know the answers to certain questions, just put "I don't know" as your answer:
Step 2: Once we receive your application and have reviewed it, I will call you and set up a time for us to meet.

The initial meeting will be between 30 and 60 minutes. This is where we really begin working to figure out exactly what you want and how to make it happen. We'll also initiate our 36-Point Technology and Marketing Assessment.

Step 3: After that initial meeting you'll receive your customized Optimization Plan and a "Report Of Findings" and discover how your situation can be improved and how your company can achieve greater results with less cost and less stress and frustration for you. This second meeting should be a real eye-opener for you.

If you see the value in engaging beyond that, great! We can talk about it at that time. And if you don't want to become a client—that's OK too. By the way, we've never had anyone feel like their time was wasted. EVER. That's why we can make this offer. WE DELIVER.
WARNING: TIME IS A FACTOR
This opportunity is extremely limited because of the intense one-on-one time required to provide you with results. Therefore, we can't do this for more than a handful of people, and the window of opportunity won't be open long. Apply now while you can.

So now you have a choice.

You can continue to struggle with developers who don't understand your business; who can't help with marketing because they don't understand it; who keep charging you hours without delivering on their promises; who continually miss deadlines; and who deliver shoddy work that requires even more time to fix … OR., you can complete the short form and find out how I could help you end all those headaches forever … IF, you qualify.
Dedicated to your success,


Vishal Bhatia,
CEO, DedicatedDevelopers.com
Alpharetta, GA
+1-770-212-3889
Not Ready To Book Strategy Session Yet?
Download Free Copy Of My New Book Now
The Ultimate Plan for Outsourcing Software Development: How to Eliminate the Risk, Save Time, Save Money and Get Outstanding Software that Drives Massive Profits!During this easy-to-digest guide, you're going to discover the various ways you can outsource web or mobile app development without tons of hassle, stress, or spiraling, unexpected costs. You'll learn exactly when to outsource development, when to do it in-house and when to hire a local outside firm.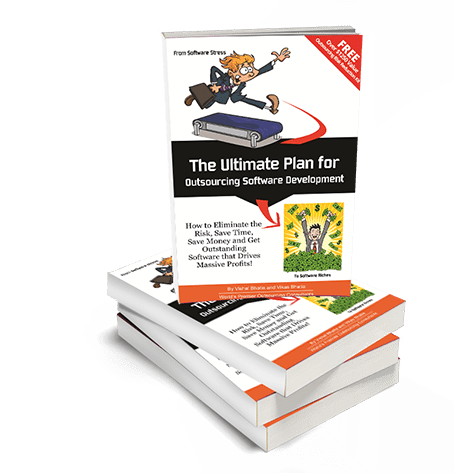 Don't You Just Want Your Website & Sales Funnel To Work And
Make You Money The Way They are Supposed To?
That's why we're making this offer. I know that we are hands-down the best at what we do, but I don't think it's fair for you to risk your money to find out. I don't expect everyone to become a customer, but I know that some will end up becoming loyal, long-term clients, just like these business owners: